How it all began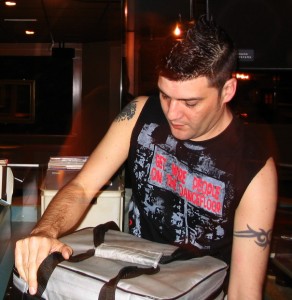 DJ Moreno was born in the USA, close to Los Angeles. He has a multi-cultural background, consisting of American, Mexican/Indian and Dutch blood, which probably contributed to the fact that his style is not easy to define.
He started playing records when he was very young and although his appearance (often recognizable because of his colourful hair) does not show it, he has already been behind the turning tables for over 20 years.
In the early Eighties he started to play records at school parties and various regional radio stations. Soon (in 1982) he got the chance to prove himself in various clubs in the area, at that time called dancings. This gave him the opportunity to develop himself to an all-round DJ that is familiar with many styles of music, such as disco, pop, rock, and new wave. In the middle of the Eighties he started playing the first house records, which was not always appreciated by the public. One of the most important characteristics of DJ Moreno is that he is very progressive, and therefore he is quite often ahead of time.
In the early Nineties he got the opportunity to work at Club Starlight as a resident, where he could develop himself further as a club DJ. He does not want to commit to a certain style, and loves to mix various styles of house together, creating a varied club night. From groovy club to progressive, building up to club with techno influences, often closing the evening with the popular hard techno sound.
He personally prefers music with an "underground" feeling and new movements, but he never forgets that the public is there to dance and have a great night out.
Besides his work as resident DJ for Starlight he also regularly played at different clubs and parties all over the country, among which he had regular gigs on Fetish parties (e.g. in the Kuip in Rotterdam). In the summer he played numerous times abroad: Crete, Ibiza, Germany, Prague, Bulgaria, Hungary and Ukraine KaZantip. Another highlight in his career was a radio set of one-and-a-half-hour during a program of Giel Beelen at Radio 3 FM, (Nationial radio)
To make a long story short: Moreno is a DJ with a lot of love for his profession and he loves to make that heard!